Meet Jack Vrh Jr., Chad Moeller Baseball's Featured Player for March 2013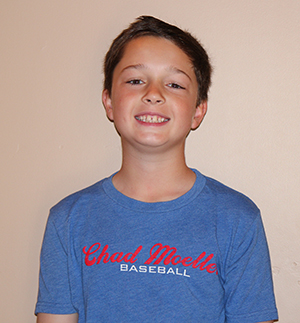 NAME : Jack Vrh Jr.
AGE: 10
HEIGHT: 4'9″
WEIGHT: 91 lbs
HOMETOWN: Boston, MA
YEARS EXPERIENCE: 3 years
CURRENT TEAMS:
Elite Baseball Team
Scottsdale Cal Ripken Texas Rangers
POSITIONS: Catcher, Pitcher
SCHOOL: Desert Foothills Academy
ACHIEVEMENTS:
Principal's List
Student of the Month
FAVORITE MLB PLAYER: Buster Posey, Because he is a great catcher and hits home runs
BASEBALL GOALS: Hit the ball hard and be a great hitter. Play in the World Series.
WHAT I'VE LEARNED FROM CHAD: I learned how to be a catcher, sliding, throwing, blocking and how to catch a curve ball. I also learned how to be a better hitter. I have fun learning with Chad and I look forward to every week's lesson.