Meet Keagan Bafus, Chad Moeller Baseball's Featured Player for May 2013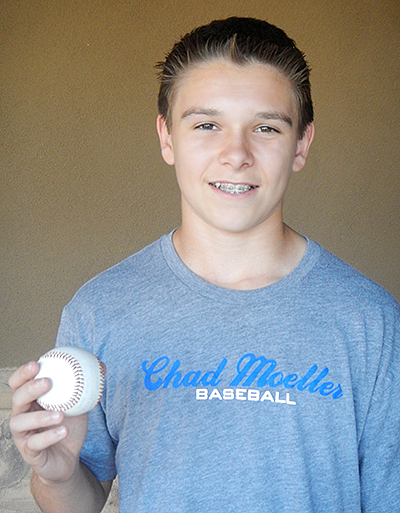 NAME : Keagan Bafus
AGE: 14
HEIGHT: 5'4″
WEIGHT: 115 lbs
HOMETOWN: Scottsdale, AZ
YEARS EXPERIENCE: 10 years
CURRENT TEAMS:
POSITIONS: Center Field, Left Field, Catcher
SCHOOL: Blessed Pope John XXIII
ACHIEVEMENTS:
Invited to All Star Team each summer
AZ Play Ball Team had best record for Winter Ball
FAVORITE MLB PLAYER: Matt Kemp of the LA Dodgers. I also like former AZ Diamondbacks player Luis Gonzalez because he goes to my church.
BASEBALL GOALS: I want to continue to be a better hitter and to recognize how to hit all types of pitches when I play in high school.
WHAT I'VE LEARNED FROM CHAD: Chad has really helped me see and helped me hit curve balls, change ups and fastballs when I take my lessons. I like the drills he has me do and I really like it when he pitches to me. I also learned a lot about blocking balls in the catching clinics I've attended.