Meet Kevin Cron, Chad Moeller Baseball's Featured Player for August 2013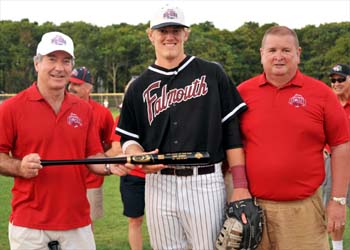 NAME : Kevin Cron
AGE: 20
HEIGHT: 6'5″
WEIGHT: 235 lbs
HOMETOWN: Phoenix, AZ
YEARS EXPERIENCE: 16 years
CURRENT TEAMS:
POSITIONS: First Base
SCHOOL: Texas Christian University (TCU)
ACHIEVEMENTS:
2013 Cape Cod League All-Star (West Division MVP of All-Star Game)
2012 All Tournament Team (College Station Regional)
2012 All Tournament Team (Mountain West Conference Tournament)
2012 Freshman All-American
2013 Preseason All-American
2012&2013 All Academic Team (Mountain West & Big 12 Conference)
FAVORITE MLB PLAYER: Probably Miguel Cabrera or Justin Upton because I love watching them hit. They have very compact and explosive swings and I like watching then take aggressive, controlled swings at the baseball.
BASEBALL GOALS: I want to help get my TCU team to the College World Series, get drafted and play in the big leagues.
WHAT I'VE LEARNED FROM CHAD: The biggest thing that I have learned from Chad was how to always remain confident in my approach and swing. Baseball is a rough game and I need to trust the ability that I have. Get back to being who I am and let the rest take care of itself.