Meet William Kletscher, Chad Moeller Baseball's Featured Player for June 2013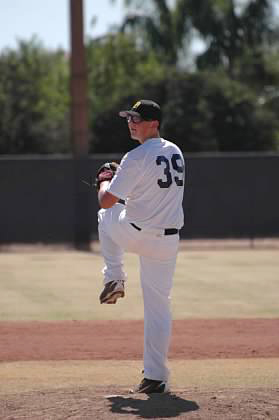 NAME : William Christian Kletscher
AGE:
HEIGHT: 6'0″
WEIGHT: 165 lbs
HOMETOWN: Scottsdale, AZ
YEARS EXPERIENCE: 10 years
CURRENT TEAMS:
Sabercat Baseball program
POSITIONS: First Base and Right Hand Pitcher
SCHOOL: will start August 2013 @ Saguaro High School
ACHIEVEMENTS:
School Principal's List
Honor Roll
FAVORITE MLB PLAYER: Joe Mauer of the Minnesota Twins – He plays for my favorite team, the Minnesota Twins, and I like what he stands for on and off the field
BASEBALL GOALS: I would like to be a starting pitcher and first baseman for the varsity baseball team at Saguaro High School.
WHAT I'VE LEARNED FROM CHAD: Chad has improved my hitting by teaching me to use my legs correctly to generate more power. He has also taught me a lot about the mental aspects of the game.