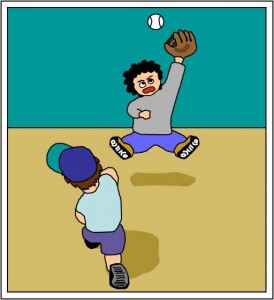 Playing catch before a game or practice is not just an activity to get you warmed up; it might be the most important aspect of your pregame or practice.
I had a freshman coach who loved the phrase "Play Catch, Not Shag!" I always thought the phrase was funny and sounded catchy, but as baseball became more than just an activity, his words continued to ring true.  Coaches have and always will say that the team that plays a better game of catch will usually end up on the winning side of the scoreboard.  But how often is this practiced with the same intensity as batting practice or game situations?
Playing catch is not just a way to get your arm loose.  It is not a time to converse with your buddies and talk.  It is an opportunity to get better.  Below is a list of ideas and baseball tips that can help turn playing catch into a pivotal drill.
First – have a routine.  You are training your arm – stay consistent.  Start at a short distance – possibly on one knee – this allows you to concentrate on your release point (always out front), how to properly hold the ball (always a four seam grip), a cobra or peace sign with your two fingers away from the target, point glove or non-throwing elbow at target.  (These intricate throwing motion techniques are described in this blog entry.)
Second –  Throwing Distance – Depending on your age – start at 30 feet make five to ten throws and then move back to 60 feet make seven to ten throws – move to ninety feet and make seven to ten throws.  Once again – depending on your age – move back to 120 feet and make seven to ten throws – move to 150 feet and start to extend your arm and long toss (long toss is explained in this blog entry).  Once again – depending on your age – move back to 180 feet and really lengthen out your arm in a long toss motion.
Third- After long tossing – go back to 120 feet and throw four or five and then back to 90 foot throws (four or five)and finish by really throwing the ball firmly concentrating driving that ball through your partner's chest.  Make sure you finish by on a good note – with a good feel.
When you are done playing catch – you should be sweating and feeling as if you put your best effort into the process.
Understand that the above program can be altered – shortened or lengthened.  There will be a series of other ideas to come shortly.
Until Next Time,
Chad