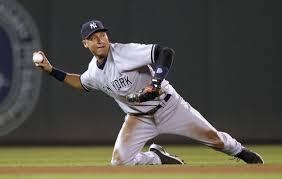 At the end of this baseball season, the greatest modern day shortstop will take off his number two uniform for the final time.  He will walk out of the locker room and down the steps and into our memories.  The face of baseball will finally retire. Derek Jeter will walk into the next chapter of his life.
Looking back at this hall of famer's career is interesting because it was so consistent.
He weighs the same today at the age of forty that he weighed during his rookie season.  What does this tell us?  He did not try to transform into someone he was not.
He stuck with his approach.  His ability to drive the ball to the right side never allowed defenses to dramatically shift.  He always used the whole field.  Thus – he rarely went into a slump.
He ran hard.  He is quoted as saying "It is not hard to run hard to first base four times in a game." It was never a choice – you hit the ball and you run hard.
He made one of the most amazing defensive plays in the history of the game when he cut off a throw from right field and flipped it to Jorge Posada to nab Jeremy Giambi before he scored.  How did he do this?  He understood the intricacies of cuts and relays.
He always knew where he needed to be in every situation.
The face of baseball never led his team in home runs.  He never led the league in RBI's.
He led baseball in fundamentals.  He led baseball in consistency.  He led baseball by being exactly who he is.
We were lucky to watch him over the past twenty years.