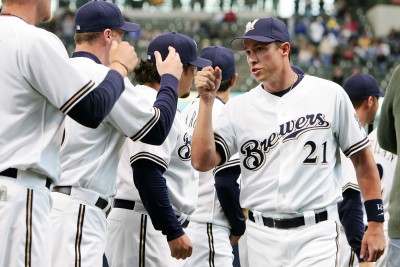 In 1995, the UCLA Bruins won the NCAA basketball tournament and Ed O'Bannon was named the tournament MVP and was celebrated for his leadership on and off the court.  This post is not about the efforts of that team 20 years ago, but instead it is about a comment that I heard from radio host last week.
He stated that Ed O'Bannon recently told him that he keeps in contact with every one of his teammates from that team.  He said that at least once a month, he will exchange emails, text messages, or actually meet with every member from that team.  The only member that he does not keep in contact with is a player who now lives overseas.
He stated that every player from that team is still in contact with each other.  That statement floored me.  These teammates are now 40-years-old and that comradery is still there.
This made me think – are they still in contact with each other because they won a championship together or because their strong bond allowed them to achieve greatness and win a championship?
I came to the conclusion that it is probably a mix of both.
In this day and age where statistics and fantasy sports can often become overwhelming and players are seen as statistical machines instead of living breathing human beings, it is important to remember the importance of caring about your teammates.  By investing in your teammate's life, the team bond becomes stronger and usually the effects are positive on the field.
The second conclusion is that winning together as a team forms a bond that cannot be erased by years.  Once a group shares something special, they are forever bonded.
The goals of sports are immeasurable and cannot be quantified by numbers and statistics.  The bond that sports create are a foundational piece for growing up and becoming a positive influence to society.
Invest in your teammates lives.  You never know, some of these guys you are playing with today will eventually become your life-long friends.