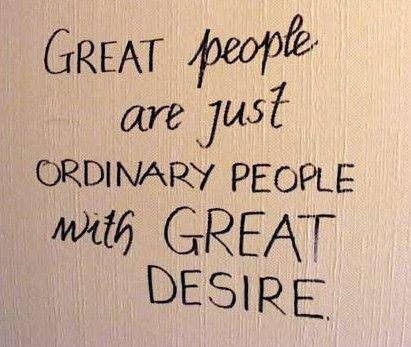 Reverend Bob Richards, the second man to ever pole vault 15 feet stated that "every day ordinary people do extraordinary things. That is why the Lord made so many of us ordinary."
This statement might be shocking to hear but upon further inspection, this statement is absolutely inspiring.  All people question their own ability and sometimes become quite frustrated that they cannot do certain things.
We all have faults and we all have limitations, but often, we let our limitations hinder us to the point where we feel we can never accomplish greatness.
We look to our left and right and see our teammates or classmates with superior skills and we hope and sometimes pray that we could have their characteristics or ability. 
But the fact of the matter is that we have everything we need.  We are ordinary and that is all we need to be extraordinary.  We just need to take our ordinary talents and use them in extraordinary ways or with extraordinary care.
By doing the ordinary with extreme determination we are well on our way to an extraordinary feat.
By practicing the ordinary fundamental with extreme attention, we are training our body to do the extraordinary.
We have everything we need – we just need to take our talents and harness them to a point where we can do extraordinary things.
I am glad to be ordinary because if I do a little extra, I can become extraordinary.