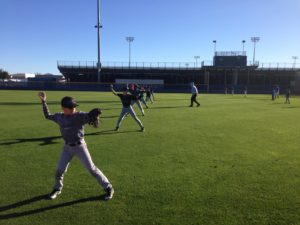 This entry is dedicated to the art of pitching backwards.
First off, I am not recommending for any kid to stand backwards on the mound and deliver the pitch not facing the hitter.  Pitching backwards is a way of pitch calling.
In a previous past, I talked about keeping simple with the fastball and I believe that the fastball is the best pitch in the game.  But sometimes when the opposite team starts to hit the fastball away hard with regularity it demands that the pitcher makes the adjustment.
Pitching backwards philosophy is to throw opposite pitch than what is expected in most situations.
Here are some examples.
0-0   is a statistically a fastball count – so throw a curveball for a strike
1-0   is statistically a fastball count – so throw a curveball for a strike
2-0   is statistically a fastball count where the hitter wants to get their arms extended and drive ball so they are usually gearing up for a fastball – so throw a changeup down or a curveball for a strike
3-0   Throw the fastball – don't overthink it unless Mike Trout is hitting
0-2 is statistically a good pitch to throw an off speed pitch – but a fastball in can freeze the hitter.
3-2 is statistically a fastball count- so throw your most effective off-speed pitch for a strike.
The key to any of these strategies is to disrupt the timing of the hitter, because all hitters, no matter the age will somewhat guess what pitch is coming.  But no key matters unless the pitcher is able to locate pitches in the zone they want to.
In life there are expectations and reality and when those two are mixed up, it is called irony.  We all have expectations and when the reality does not fit our expectations, our timing gets all mixed up.  Life continues to tell us to expect the unexpected but it is easier than said.  If a pitcher is able to pitch backwards, they will mess with the expectation and get the hitter to over think and we all know that a hitter overthinking is never a good idea.
When you watch a big league game – watch their pitch sequences and see if you can pick up when a pitcher is pitching backwards.
Until Next Timefile