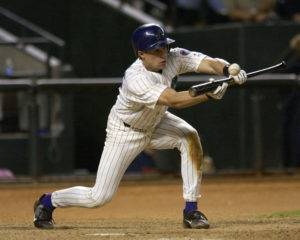 Have vision over visibility.
The rock band U2 has a line in their last album that states "vision over visibility"
This line was not intended to relate to a baseball player's life but upon further inspection, it definitely does fit perfectly.
Often in baseball, we focus on the visibility of statistics as the end all and be all of our success.
"I went 1 for 3 with a single and 2 groundouts."
"I pitched two innings and struck out two and walked one"
"I made one error but I made two other plays."
I encourage you to have vision over visibility.
Try to have vision and ask yourself if you got better today?  Did you felt better at the plate? Did you implement in the game what you practiced? Did you keep a positive attitude?  Did you stick to your fundamentals?
Your career is made up of a lot of today's put together.  Have a vision for how you want your career or your season to look and strive for that vision.  Work towards a vision (ultimate goal)
Your season will have many ups and downs, but an overall vision will help you deal with the small mistakes and triumphs.
You might not get immediate results when you change a certain part of your swing.  You might make an error even though you practiced right and did it right in practice twenty times.  Trust the process.  Have vision over visibility.
Don't focus too much on where you are, instead focus on where you want to get.  Work towards that goal and I promise the end result will be better.
I wish you the best of luck in having vision over visibility.
Until Next Time,
Chad