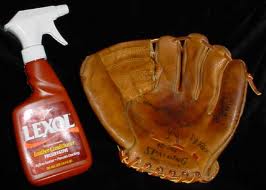 Baseball season is right around the corner.  Players are getting in shape for the upcoming season.  Most players will be reporting around Valentines Day.  The same is true for youth baseball.  Little Leagues are having tryouts and teams are being formed.  Maybe not quite yet in the North East part of the country, but here in the South West it is right around the corner.
So as players pull out the gloves from storage and start to swing the bat again, I wanted to share a helpful hint to get your glove back in shape.  Most glove companies have their glove oils which is an option. (Not a good One)
Some players will use shaving cream. (Better then Glove Oil)  Another choice is saddle soap or mink oil. (Very Good choices but not the best)
If you went into almost every Major League club-house there is one glove product you would definitely find.  But to purchase it you would not go to a sporting good store.  You would find it in automotive stores or Walmart in the auto care department or even carwashes.
Lexol is by far the most popular glove treatment in the Major Leagues.  It is designed for leather car interior.   There are two kinds.  You want the brown bottle not the orange.  Orange is a leather cleaner and the brown bottle is a leather  conditioner.  There is not a better product on the market for gloves.  You should use it around twice a month or when it starts to look dry.  I like the spray bottle because it's easier.
Just spray it on all the leather and then rub it in. Hope this tip helps save you some dollars in the long run on gloves.
Until Next Time,
Chad